I've had one of those days.
Stupid slushy snow made the walk to work "interesting" this morning. Work was decidedly uninspiring. Walk back from work was cold and unpleasant. This evening I watched the rather dull Liverpool v Tottenham game (2-0) rather than what appears to be the rather more exciting Aston Villa v Blackburn game (6-4).
So I decided to take some pictures of some of my latest work:
Huron Blackheart
These two (not great) pictures were taken before he fell off the desk and bounced off the floor, knocking off his backpack, bending the talons of his claw and chipping the paint off his head.
...and yes, I was a little upset...
He's now on the shelf awaiting me to get the motivation to repair and repaint.
Classic Skaven Sorceror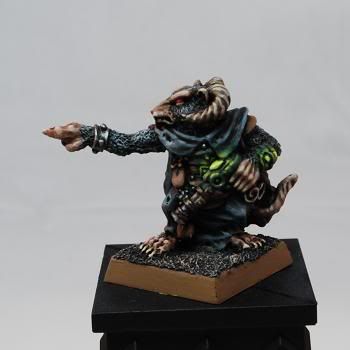 This is the only picture that came out well of this guy - I've put him in this post as it's my best attempt so far at Object Source Lighting (based loosely on the tutorial in a recent White Dwarf), and I needed a positive...
As always, comments and criticism welcome.