Got 3 of these old noise marines, and this is the first one I've painted: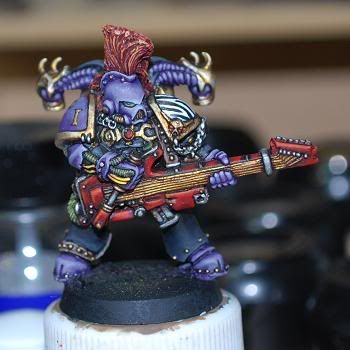 Not quite finished, and it's been suggested that the greaves should be another colour. Not sure about that, especially as I spent a lot of time getting the black right! The purple was Hormagaunt Purple, washed with Leviathan Purple, and then highlighted up through Hormagaunt Purple to Astronomicon Grey. I'm pleased with the result, and it's more of a pastel colour (more befitting Slaanesh), than a bright purple.
It's had some really good feedback at the
Bolter and Chainsword
WIP painting forum, which I'm really pleased about - I'm trying to concentrate on painting for me, but it's nice to get some praise/validation.