OK, this has been way too long since my last update, so time to show some of the stuff I have been painting recently. The clearing out of half finished stuff in my painting station continues, and I'm actually making some headway.
My photography is improving (thanks for the tips Mr Egan!) - still not good enough yet, but better...
First up, the
Dark Elf Executioner Champion
that was WIP a couple of posts back - this chap turned out really well, I decided to forego the freehand on the back of the cloak as I didn't think it really needed it, the turquoise-y blue has come out really well, and works nicely with the red. I've been informed (by our resident expert Jeff) that it's more of a Japanese style colour scheme - I can live with that!
Next is everyone's favourite wizard (no, not Paul Daniels, or Dumbledore, you heathen scum...),
Gandalf the Grey
from the Mines of Moria boxed set. He's a little low on detail sculpt wise (due to him being really a snap-fit miniature for beginners), but he's come out quite nicely in the end. He's wearing grey, and he has a white beard - what more do you want? :-P
Finally,
Uruk-Hai berserkers
(or Orcs in gimp-masks as they were described a week or so ago...) - really simple paint scheme, flesh, metal and black cloth. It's a wonder I haven't finished these guys a while ago...
Picture is a bit ropey, but what the hell...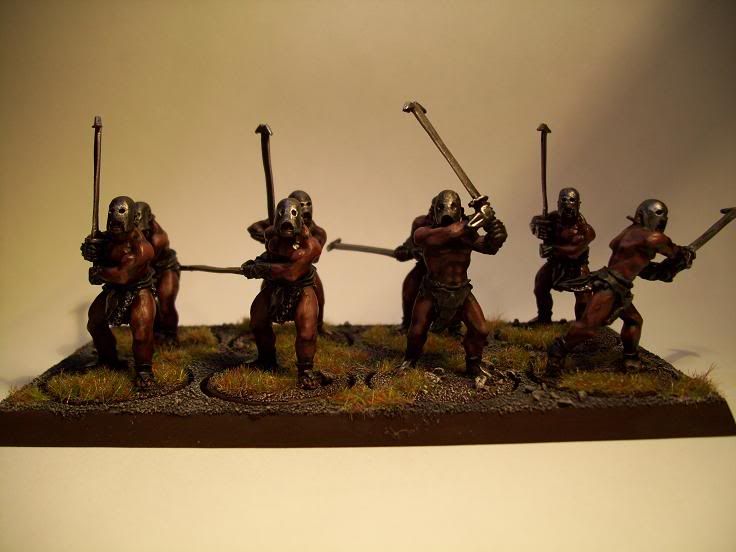 Tomorrow, I'll get some pictures up of the Blood Angel sergeant, who I've made a bit of progress on, and a High Elf Champion I've had lying around for a while.